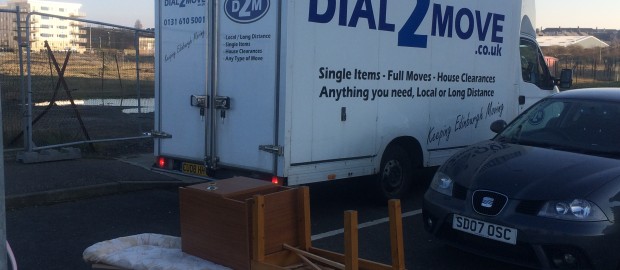 Local Edinburgh company comes to rescue and clears up fly tipped rubbish
Martin at Dial 2 Move Edinburgh removed the goods left at Granton harbour as a local resident being fed up with fly tippers in the area, there is a lot fly-tipping in the Area since Edinburgh council stopped clearance and removal trades using their refuse centres last October  I'm aware when people want unwanted furniture and household goods disposed off its worthless to them so it's a worthless job in their eyes, they expect items to be tipped for more or less no cost or match the councils costs for disposing, thats just not comparable to a business being run for wages and some profit, it's actually quote costly now to dispose of unwanted items. 
Some man with a van companies are desperate for work and will do anything to get a job and often risk it all by fly-tipping. Residents of Edinburgh are unaware of the true disposal costs, for example a double mattresses for disposal is £30 at the local private tip, this price doesn't include the time and labour involved so the end cost can be £60 or more for one double mattress! Electrical  goods also have different prices for disposal, for example a clock radio is £5 for disposal, A TV is £12,  which to the normal resident is meaningless but to the clearance company it's less profit when a whole clearance job is added up . So you see why it's tempting to fly tip, sometimes the profit is very little, unless people want to pay the right price for disposing of unwanted items?
People who organise house clearances are responsible for checking that the company  or man with a van doing the disposal is SEPA registered and they can be legally held responsible if they don't! The council have a special uplift service that currently is on a 3 weeks advanced booking, for most people this isn't possible to wait that long and costs can't be compared to a Private company as that service is subsidised by council tax payer.