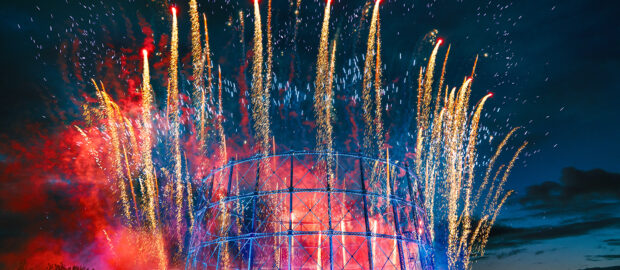 The sky above Edinburgh has been illuminated by the Granton gasholder with creative light shows designed by students from Edinburgh College working in partnership with the City of Edinburgh Council.
The iconic gasholder tower located in the Granton Waterfront area of the city is now a beacon of light on the Edinburgh skyline thanks to the partnership project which provided students from the college with an invaluable opportunity to expand their knowledge and develop their skills working on a live creative project.
Students from across the College's Creative Industries faculty, from Music and Sound Production to Art and Design, worked alongside 21CC Productions to create the lightshows and designs.
They will illuminate the sky over Granton Waterfront for a period of up to two years starting in time for the summer festivals in whatever form they take this year.
The tower has long been an iconic fixture on Edinburgh's Waterfront for more than a century dating back to 1903.
The Council acquired the gasholder as part of the purchase of the wider gasworks site in 2018 and made the commitment to retain and restore it as a central feature within the ambitious £1.3bn regeneration of the Waterfront.