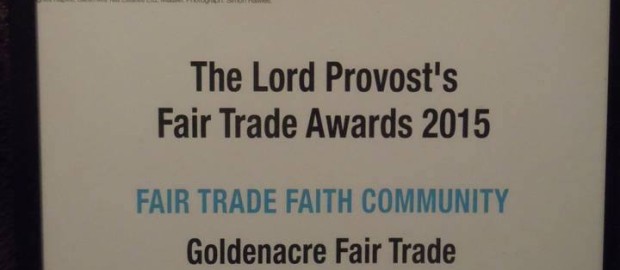 Inverleith St Serf's Church and their fairtrade stall scooped two prestigious Edinburgh Lord Provost Fair Trade Awards at City Chambers last night
The awards were for
– Fair Trade Achievement
– Fair Trade Faith Community.
There has been a fairtrade stall in Inverleith & St Serf's Churches for 20+ years. The Churches combined to form Inverleith St Serf's Church in 2011.
18 months ago the combined Inverleith St Serf's Church congregation in Trinity started to donate fairtrade food (and more recently funds) to Tenants and Residents in Muirhouse (TRIM), an award winning organisation with food bank, community shop and other local services.
Inverleith St Serf's fairtrade sales have more than doubled over 5 years (to over £7,000 per annum in 2014), but as well as supporting third world producers they have also been able to help a neighbouring community (Muirhouse) with many £100s in food donations, £1,500 cash donations in 2014.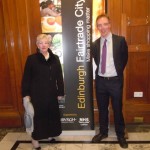 Graham Mackenzie, who runs the fairtrade stall at Inverleith St Serf's Church with family members said:
"I met Robert Pearson, Chair of Muirhouse TRIM, on Twitter. He told me about the great work they do, supporting the local community, sharing skills, providing access to affordable and healthy food, and stepping in when families experience hardship. We started talking about how our fairtrade stall could support Muirhouse residents. The Inverleith St Serf's Church Kirk Session supported the idea of receiving food donations for TRIM via the stall, as well as cash donations from retiring collections and a share of stall profits. Donations do not need to be fairtrade – we also receive general tinned and food with a long shelf life purchased in supermarkets. We are now in the great situation where we support third world producers and our neighbouring community through the work of the fairtrade stall. Robert Pearson from TRIM visited Inverleith St Serf's Church in October 2014 and told the congregation about the impact of this work. The food donations have increased substantially since his visit, as the congregation could see the direct and rapid impact of their contributions.
Chairman of Tenants and Residents in Muirhouse Robert Pearson said:
I first started to talk to Graham via TRIM's Twitter account and before too long he was offering much needed assistance. It amazes me that our neighbouring community want to help us and they do so well. I went to the church with a shop volunteer to do a small presentation and the congregation were so supportive to us. From the donations to the food bank to the £1500 which has been given to us. We have used the funds to purchase display units for the shop, plaster the wall and hiring vans to move items between residents. Myself and the board are very grateful for the support we receive from Goldenacre Fairtrade.

We are absolutely delighted that they scooped not only 1 award, but two, they are well deserved and show the hard work what Graham and his family put in. Once again congratulations
The Inverleith St Serf's Church Fairtrade stall runs every second Sunday, with details on their Facebook Page (Goldenacre Fairtrade). Bring along donations for the food box, or purchase fairtrade items on the day. The next stall runs on Sunday 8 March, 11.30AM (after the 10.30AM church service).
Please feel free to drop in, via the Clark Road entrance if coming after the service. All are welcome. The stall runs until 12.30. You'll find a great selection of staples, cereal, chocolate, drinks, treats, gifts, seasonal items (e.g. Easter Eggs, cards and jewellery) and more.
You can follow Goldenacre and Trim on their Twitter accounts: