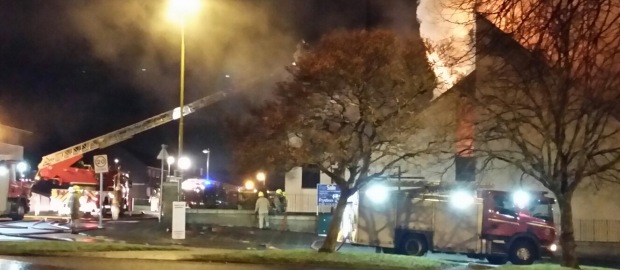 Last night a fire ripped through St Paul's church on Pennywell Road. 

The fire was reported to the Scottish Fire and Rescue Service just after 9.30pm and when they arrived the building was well alight.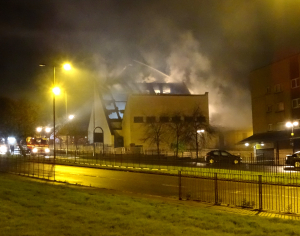 One local who asked not to be named said, "It's such a shame, the Church has been here for years and although it had been closed its just a shame that it's on fire."
Tenants and Residents In Muirhouse Said
"Last night we were made aware of the chapel on fire via our social media, as we attend to see the extent of the fire, it was absolutely devastating to see flames coming through the roof. Pennywell Road was closed to allow the emergency services to work safely"

"Our community always feared when the chapel closed in October that it would be vadalised or worse set on fire. Sadly we have a serious problem with anti-social behaviour"

"As far as we know Police and Fire are yet to release details on the cause"
This morning Police Scotland said
"Police in Edinburgh responded along with the Scottish Fire and Rescue Service to the vacant St Paul's church on Muirhouse Avenue at around 9.15pm following reports of a fire.

"The fire is being treated as suspicious and anyone with any information is asked to come forward."
Pennywell Road and streets surrounding the fire were closed as around thirty fire fighters got to work tackling the blaze.
Two turntable ladders where used to spray water onto the fire.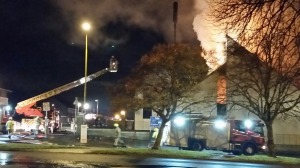 Christine McAusland commented on our Facebook post "Just been to see St Paul's so so sad tears were shed, flames have taken over Firemen struggling to fight the fire."
Despite the best efforts of a community campaign the church was closed and last night a for sale sign was standing in the garden area.
Last night a spokesperson for the Scottish Fire and Rescue Service confirmed that they would be on scene throughout the course of the night and that a full investigation would get underway in due course.
Local photographer Josh Hardwick sent us a variety of photos that can be viewed by clicking here.