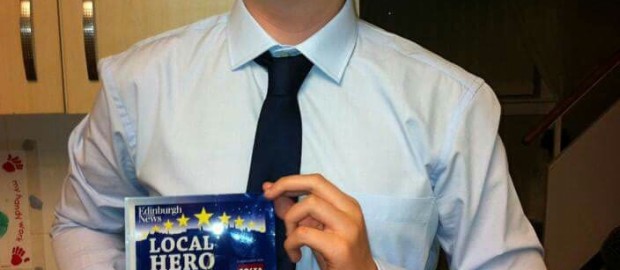 Local teenager Josh Hardwick was awarded the Inspirational Young Adult award at the at the Pride of Edinburgh Awards on Friday night.

Around 300 people attended the bash in the Assembly Rooms.
Muirhouse lad Josh, 15 told North Edinburgh Community News
"To be nominated and shortlisted was a huge achievement for me, I really enjoy all I do in our community and especially the community shop.
"I was totally shocked when they called out my name as I did not expect it at all. There were some truly inspirational people in my category.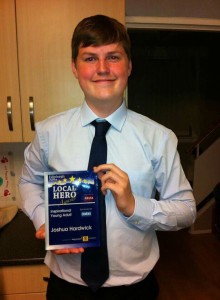 "I am so happy and proud that I won such an amazing award.
"Thanks for all the positive comments on social media"
Josh was nominated by TRIM chairman Robert Pearson for all his work in the community shop and with TRIM, he said
"I was waiting nervously for Josh to contact me to tell me the good or bad news, then I got the text 'I have got some news' – I knew it right away he had won.
"This goes to show what people of North Edinburgh can achieve, I speak for the TRIM Board and community shop when I say we are truly delighted for Josh.
"To be awarded the Inspirational Young Adult by the Evening which covers Edinburgh and the Lothian's is outstanding"
Well done Josh from everyone at North Edinburgh Community News.
You're contribution to our work is greatly appreciated and you are a valued member of our team.