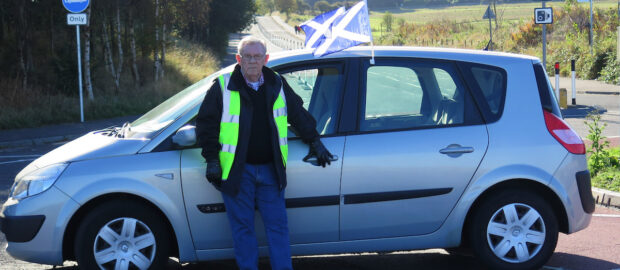 A local man staged a protest due to the ongoing closure of Silverknowes Road by blocking the roundabout yesterday.
Ronnie Scotland believes the closure doesn't make any sense and is resulting in other roads being busier.
The popular route to the beach was closed at the start of the pandemic as part of the controversial Spaces for People projects introduced by the Council.
Yesterday the 74-year-old blocked the roundabout forcing buses to be diverted.
Mr Scotland, who is a father of four said "I've run out of patience with the Edinburgh council, who didn't even consult the local residents before closing the road.
"I really don't understand why it's still closed to cars. It has made Silverknowes Parkway such a busy road now with the detour to Marine Drive.
"There are so many, cars, caravans, trailers and vans now using it, I think it's only a matter of time before someone is killed.
"It's so dangerous now. There are a lot of Craigroyston school kids having to cross the road and I really worry about a serious accident happening.
"Never mind Spaces for People, we should have Spaces For Everyone, including car drivers.
"I'm so angry. I am fed up with the council and felt blocking the road was a way to get my point across about the stupidity of their decision.
"For me to visit the beach I now have a three-mile detour. It is a shambles.
"It is not just Silverknowes Road, it is the whole of Edinburgh that is a shambles."