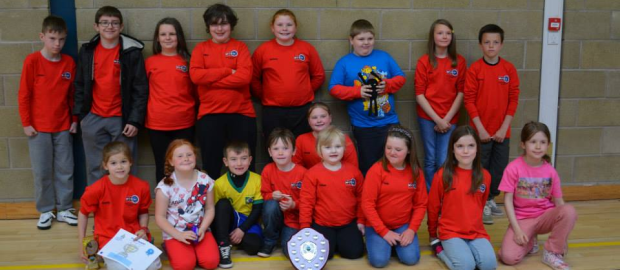 North Edinburgh Archers won the junior team trophy for a second time on Sunday and the adult team won their section for the first time.
Archery first came to North Edinburgh when Muirhouse Link Up (Backed by inspiring Scotland)  introduced it to the community.
Initially children  received coaching from the instructors of local Enterprise MYDG firstly at North Edinburgh Arts then moving to Craigroyston High school.
Link Up worker Julie Crawford was keen to get parents involved and make the group self sustainable. A group of 4 parents along with other locals under went training to become qualified archery instructors.
The club has come along way the past year, it is now entirely run by parent volunteers. Around 20 children participate on a Friday afternoon and now there is an adult section which meets on Sunday evenings between 6 – 8 pm.
These sessions are now held at PYCP in West Pilton.
Three times a year the club meet up with Leith Community Archers and North West Archers from Kilmarnock to compete for the Link up Trophy.
Instructors from the club run classes during the holidays for organisations such as PYCP and Leith Academy, this generated income for the club which goes towards hall fees and new equipment.
New members are always welcome and should contact them via their Facebook page or contact Fiona on 07968531311
The club will hold it's first club championship on 21st June and full details are on the clubs Facebook Page
Many more pictures of the group in action can be found here