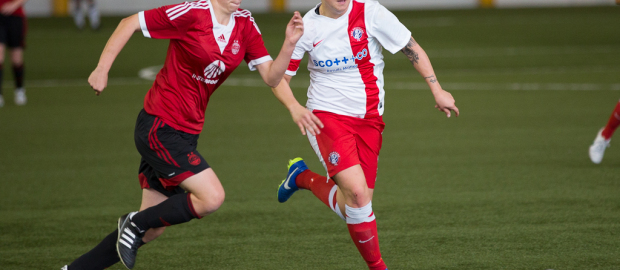 Spartans have reached the Scottish Cup Final for the first time in their history following a 4-1 Semi Final victory over Aberdeen Ladies at the Ravenscraig Arena, writes Mark Brown
A second half Sarah Ewens double, together with goals from Lana Clelland and Claire Crosbie set up a Scottish Cup Final showdown against Glasgow City at Broadwood Stadium on Sunday 16th November.
Aberdeen got the game underway inside the Ravenscraig dome with a vocal band of Spartan Army fans giving plenty encouragement for the Edinburgh side from the benches.
They were silenced as early as the 9th minute after Rachel Small won the footrace behind the Spartans defence to glide the ball past Rachel Harrison and give Aberdeen the lead.
A sweeping move from defence to attack saw Bobbie Beveridge deliver a cross into the Aberdeen box but again, Flaherty was down on the synthetic surface to save. Unfortunately for the ladies in red, Hannah Stewart was to pick up an injury in the process and we wish her well in recovery.
The crossbar then denied Sarah Ewens from pulling things level after her thunderous 25 yard strike cannoned off the woodwork and away to safety.
As the game edged towards half-time, an unhelpful challenge gave Spartans a free-kick just inside the Aberdeen half. Up stepped Lana Clelland from a full 40 yards out and the Scottish Internationalist unleashed an unstoppable rocket that sailed over Flaherty into the net.
Half Time: Spartans 1-1 Aberdeen
Clelland was to turn provider three minutes after the interval when her rapid shot across the face of the 6 yard box stung the fingers of Flaherty who spilled the ball into the direction of Ewens who slotted home from close range to regain the lead.
An audacious 40 yard attempt by Katie Reilly almost paid off for the Spartans Captain, only for the ball to narrowly lift over the bar at the last moment.
At the other end, Harrison had to look sharp to deflect a Rebecca Dempster free-kick round her post as Aberdeen pressed for an equaliser.
With the neighbouring hall at the multi-sport Ravenscraig facility offering a weekend of Boxing action, it was a two goals in a three minute spell that delivered a knock-out blow to floor Aberdeen.
With eight minutes left on the clock, Claire Crosbie leaped above the Aberdeen defence to direct a cross net-bound. A despairing attempt on the line by a Dons defender was in vain as the well positioned linesman offered Referee Carberry assistance by notifying that the ball had breached the whitewash.
Determined play from Louise Mason to work the ball to Ewens in the box paid dividends as the prolific striker directed the ball home with a cheeky back-flick to seal an emphatic victory for Debbi McCulloch's side.