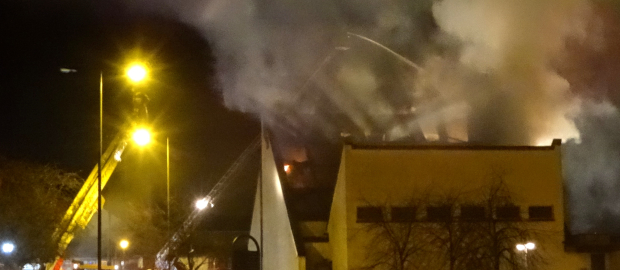 Plans have been submitted to the city Council to build 36 student flats on the site of St Pauls church in Muirhouse.
The plans submitted by EMA Architecture and Design where submitted last month and local groups and councillor have reacted angrily after being left in the dark about these plans.
As well as 36 flats they also have space for 22 car parking spaces.
St Pauls closed and last year an arsonist sent the building alight. It has been derelict since this time.
Last night local councillor Cammy Day said "While the city of Edinburgh council and our partners Urban Union develop much needed, quality affordable housing in Pennywell to compliment a new school, a new health partnership centre plans for a new central shopping area and work with the local community – I was astonished to find that a developer plans to throw up over 100 student rooms in the heart of the regeneration without mentioning this to anyone.
"Plans have been submitted to the planning authority and I have made community groups aware should they wish to comment, as the closing date for comments is imminent.
"Muirhouse and Pennywell have a local group – 'Improving Muirhouse and Pennywell', bringing together local people, elected members and those who wish to develop in the community together, and this has been successful.
"It's for these reasons, and much more that I'm disappointed that we had not been made aware of this at an earlier stage."
News about the plans spread on social media last night and local voiced their opinions.
Susan Mckiernan posted "We need homes for families not accommodation for college students. This is ridiculous."
Danielle Smoosh Campbell commented on Facebook. "Why is this unacceptable? It's putting the space to use! Don't need more homes for families in the area I case you didn't notice they are in the process of building homes on penny well road"
Robert Pearson, chairman of TRIM, said Chairman of Tenants and Residents In Muirhouse Robert Pearson said
"I was taken by surprise when Cllr Day emailed me last night to ask what our thoughts are on the proposed student flats"
"This was the first I was made aware, and considering I sit on the IMP group this amazed me that developer tried to hide this from us"
"I have contacted all the TRIM board and suggested they agree with myself to object the application"
With the deadline for comments fast approaching anyone who wishes to make comment on the plans can view them here.