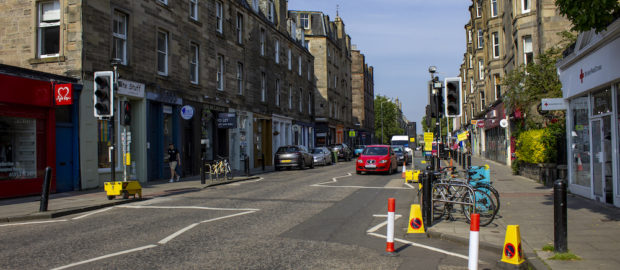 A petition to halt Edinburgh City Council's controversial plans to make its Spaces for People traffic schemes permanent has attracted more than 6,000 signatures in just three days.
Two campaign groups – Get Edinburgh Moving and South West Edinburgh in Motion – launched the petition last week, in response to the council beginning a consultation on making the temporary Spaces for People schemes permanent.
Since April, the council has used the £5m it received from the Scottish government to introduce various road closures and temporary traffic measures using emergency coronavirus powers, with consultation taking place only after the fact.
Last month, councillors approved plans to launch a city-wide consultation on which traffic measures and road closures residents may wish to keep.
The petition, which calls on the council to properly consult with residents, reads: "Edinburgh City Council plans to use a fast-tracked 'consultation' this spring, to make these schemes permanent.
"We have no confidence in this approach. In previous 'consultations' like this, the council ignored up to 90% opposition, then implemented their plans regardless.
"The council is also manipulating road-traffic legislation to replace robust public consultations with these fast-tracked "consultations", which often exclude sections of the community.
"We reject this and call on the council to honour their commitment that Spaces for People schemes were temporary. Any scheme considered for permanency should go through a standard Traffic Regulation Order."
The petition also alleges that the Spaces for People schemes have created more congestion, damaged businesses, and has 'diverted attention from gritting and pothole repairs, pressuring the NHS with dozens of accidents'.
Conservative councillor Susan Webber, who represents Pentland Hills, said: "The pace at which this petition has gathered this level of support should send alarm bells through the administration's virtual corridors.
"If they continue to blatantly ignore the vast majority of the city's residents, who now have a way to coalesce their opposition to their opportunistic attempts to make these controversial temporary spaces for people measures permanent, they will lose all respect from our citizens."
The SNP convener of the transport committee, and councillor for Liberton and Gilmerton, Lesley Macinnes, said "The forthcoming consultation on retaining Spaces for People measures is about gaining people's views on the schemes, and where they've benefited from or been affected by them.
"This is by no means a done deal, and feedback will be invaluable to officers, who will be analysing responses before considering whether any of the interventions, or elements of them, could be kept more permanently."
Keep Edinburgh Moving campaigner David Hunter said "The stunning initial response to the city-wide Keep Edinburgh Moving petition should send a crystal clear message to Edinburgh City Council that it must listen to residents as a whole, not active travel pressure groups."