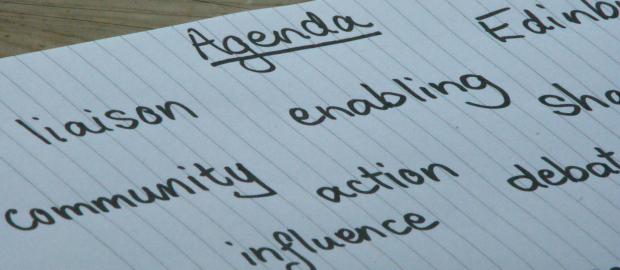 This week we are running a series of articles about Community Councils.
In this article we will explore what a Community Council is.
In North Edinburgh we have 6 community councils and they are:
Stockbridge, Craigleith and Blackhall, Drylaw and Telford, Muirhosue and Slavesen, West Pilton and West Granton and Granton and District.
Each year the Council give each Community Council a grant of between £650 and £800 to operate.
So the obvious question:
WHAT IS A COMMUNITY COUNCIL?
Community Councils (CCs) are voluntary organisations set up by statute and run by local residents to act on behalf of their area.
Their specific role can vary according to their local area's needs.
Their size, in terms of area and population, differs across the country.
In some areas there are Federations of CCs, allowing them to work together over larger areas. As the most local tier of elected representation, CCs play an important role in local democracy.
WHAT IS THEIR ROLE?
CCs act as a voice for their local area.
They must ascertain and express the views of the community to local authorities and other public bodies, and to take action which appears to be in the interests of its community.
They can complement the role of the local authority but are not part of local government.
They should have a positive working partnership with the local authority – therefore they must be informed on the council's policies, and keep the council updated on their activities.
To effectively represent their community they must be proactive in consulting and engaging with local residents.
WHAT RIGHTS DO COMMUNITY COUNCILS HAVE?
Under the Local Government (Scotland) Act 1973  A local authority must maintain a scheme for CCs in its area and review it from time to time. They should establish CCs boundaries for managing elections, meetings, finance. CCs have the right to:
to be consulted on planning applications
to comment on licensing applications
CCs receive grants and other assistance from local authorities to help with their administration.  This includes training.
WHAT ARE THEIR RESPONSIBILITIES?
CCs must hold elections every three to four years. They must call for nominations publicly.
To be nominated to join a Community Council, the person must reside within that CC area and be aged 16 or over (in come local authorities 18 years). All CC meetings are open to the public, and their minutes and agendas should be available to local residents.
CCs must represent all people in the area without prejudice: they should be non-party political and non-sectarian.
They must represent a full cross-section of the community and encourage the involvement of all peoples irrespective of gender, race, age, disability, nationality or sexual orientation.
EXAMPLES OF WORK COMMUNITY COUNCILS DO?
As well as representing the community to the local authority, CCs facilitate a wide range of activities which promote the well-being of their communities.
They bring local people together to help make things happen, and many CCs protect and promote the identity of their community.
They advise, petition, influence and advocate numerous causes and cases of concern on behalf of local communities.
Here are some examples of their work from across the country:
Carry out projects to enhance their community for all types of citizens – elderly, single mothers, youths etc.
Issue community newsletters
Conduct local surveys
Campaign on local issues
Organise community events (such as local galas)
Tomorrow we will explore how community councils should engage with the wider community versus how the local community councils do it.