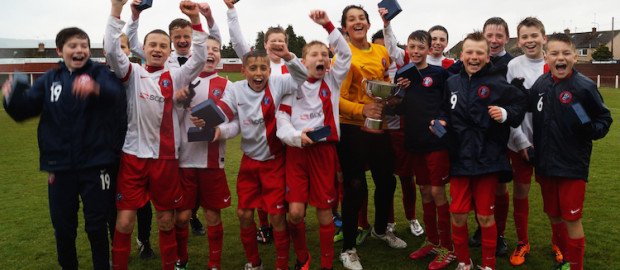 Spartans u13s faced Tyencastle in the final of the Peter O'Neill cup on Sunday and ran out 4-0 winners, writes Vince Raeburn
The local side started the brighter and a couple of set pieces gave them the chance to get the ball into the Tynecastle box.
A Ewing free kick on the right was cleared and then a corner on the left played in by the same player was taken well by Aaron Heap in his six yard box.
The crowd could sense a goal was coming for Spartans and it duly arrive on the 25th minute.
A defensive error just outside their box on the left allowed Dempster to pick up the ball and square it across the box to Crombie who fired home from 10 yards out.
In added time in the first half Spartans doubled their lead after being awarded a free kick on the right touch line.
Ewing stepped up and floated a lovely ball into the box, which was met by Swanson, who directed a looping header into the top left hand corner beyond Heap to go into the break with a deservedly two-goal lead.
Spartans were in control with Dempster having a shot blocked then Reece Mason produced a good strike from the edge of the box, but his looping shot was well taken by Heap.
Spartans play was a joy to watch with it not only mesmerising the Tynecastle players but also the busy stand of supporters trying to evade the rain.
This was the case when Dempster who seemed to be everywhere, picked up the ball and when he crossed the ball into the box, Ewing was on hand to head home from close range to make it three nil on the hour mark.
A corner was crossed in and met by Mason who headed over the despairing Heap from four yards out to collect Spartans fourth goal of the game with two minutes to go.
The Spartans players and their families celebrated at the full time whistle on a job well done.