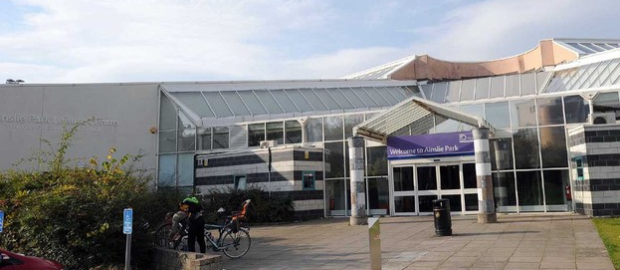 Ainslie Park Leisure Centre could face closure as the Council moves to slash its annual grant to Edinburgh Leisure from £9.6m to £7.5m over the next three years.
The unprecedented cull could see as many as eight sports facilities close within the Capital, including Ainslie Park.
Flagship venues such as the Royal Commonwealth Pool, Meadowbank and the Edinburgh International Climbing Arena (EICA) are likely to avoid the axe, meaning no other public sport centre – other than Warrender Swim Centre – can be assured of a future.
Around 100 jobs will be lost from Edinburgh Leisure's 850-strong workforce if the city presses ahead with its budget plans.
To balance its books, Edinburgh must save £67 million over the next three years – a challenge that casts doubt over a swathe of council services including the marking of white-line boundaries on public football pitches.
Today, John Comiskey, chief executive of Edinburgh Leisure, claimed it would be impossible for the sports body to meet its savings target without a "fundamental re-shaping" of the ­organisation.
He said: "In the absence of an as yet unidentified silver bullet this will inevitably mean multiple venue closures.
"To absorb a 22 per cent reduction in funding will require a proportionate reduction in our level of services.
"However necessary the council feels [the funding cut] to be, it is completely ­unprecedented and requires an equally unprecedented level of response."
Mr Comiskey said all ­Edinburgh Leisure services are now under review with several cost-cutting scenarios being considered.
But he insisted "no specific venue" has yet been selected for closure,
"Almost all services will ­appear in one or more of those scenarios, but further work is required before any specific recommendations are made," he said.
Critics have condemned planned cuts to Edinburgh Leisure's budget, branding the move a "catastrophe" for sport across the Capital.
Political leaders said axing city sports centres would come as a bitter blow only months after the Capital helped host the 2014 Commonwealth Games.
One centre user said "This is terrible news, getting access to health and sports facilities in this area is already difficult without the Council making it worse for us."
Cllr Chas Booth, sports spokesman for Edinburgh Greens, said: "The closure of Leith Waterworld three years ago was bad enough, but to see community swimming pools and other much-loved sports facilities under threat is nothing short of a sports ­armageddon.
"Edinburgh is already at the bottom of Scotland's local authority league table for investment in sport and leisure. Without adequate sports ­facilities, Edinburgh's citizens will be less active, which could lead to additional costs for the health service and the council, so these proposed cuts are extremely short-sighted.
"After a year in which our sister city Glasgow hosted a rightly praised celebration of sport in the Commonwealth Games, it would be a bitter legacy if grassroots sport and activity in the Capital were to be slashed in this way."
A public consultation on cuts proposed for Edinburgh Leisure and other services managed or funded by the council is under way and will last until December 19.
City leaders stressed no budget decisions would be taken without careful consideration of the impact on users and residents' feedback.
But they admitted closures would be considered if they were the most "efficient" way of achieving saving targets.
How will these cuts affect you? Tell us by sending us an email to community@liveedinburghnews.com