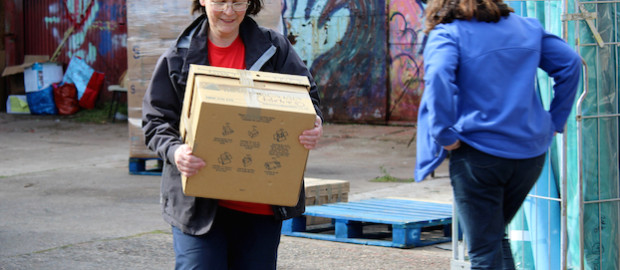 Edinburgh Direct Aid's 4th container to Lebanon is now on the way.
Hooray for that and for all the very hard work, and generous donations in cash and kind that so many contributed.
 BUT there's more work to be done – sufficient goods have been donated to fill two or even three more containers.
We (EDA)  are in touch now with  Diakonix, a major NGO in Bavaria, who have indicated that they would welcome our help in meeting the needs of the tens of thousands settling in the region.
Not certain yet, but perhaps that is where the surplus goods will go.
FIRST PRIORITY IS TO MOVE THESE GOODS BACK FROM THE OVERFLOW WAREHOUSE (by the old Lighthouse down the road) into the space now cleared in our warehouse.
HELP URGENTLY WANTED, particularly for this Saturday (26th) in the extended hours 9:00 am to 4:00 pm.
If you can come along during that time, please email or phone Me, details below.
Denis Rutovitz
denis@edinburghdirectaid.org
0131 5521545  
07952523890

www.edinburghdirectaid.org
Words of Denis – Edinburgh Direct Aid