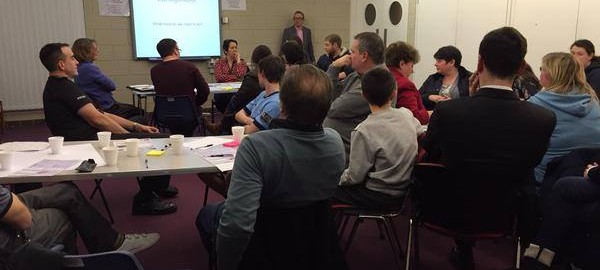 #StrongerNorth – Community Feedback Session 1
#StrongerNorth organised a feedback session so that they could review the activities of the three months from October to December 2014 and to measure
1 Where progress had been made
2 What else needs to be improved
3 What more do we need to do
The meeting was held in the West Pilton Neighbourhood Centre on Wednesday at  6:30 pm and was well attended by Councillors, Council Officials, the Police, Total Craigroyston, Community Councillors, many Residents and several young people from our Community (to name but a few). In all there were about 30 people and we were seated around three large tables.
Local Councillor Cammy Day welcomed us all and introduced the evening. He then passed the baton to our Inspector David Happs from Drylaw Police Station.
David gave a brief overview from the perspective of the Police and said that calls to 101 had reduced, crime had reduced, the Quarterlight initiative was capturing car crime perpetrators – who were also responsible for other crimes. He said that there were 7 targeted perpetrators, which were responsible for a lot of the crime in the area, and they were the subject of focussed attention.
David told us that there was great interest in renewing and setting up Neighbourhood Watch Schemes in the area and that the Police were pursuing this actively. We know that a lot of residents are interested in this.
Peter Strong then spoke about the good things that had taken place – the clean ups that had been so well supported by residents, that there had been evictions and attention paid to the small number of people that were causing the most amount of grief, the feedback that they had received, and the fact that residents had a focal point to contact. He said that there would be a focussed survey undertaken in March to help address the measurements as listed above.
Peter then suggested that we take some time to discuss the three measures and to feedback at the end of the 'workshop'. We naturally had three groups – one at each of the three tables and there was a very good mix of 'officials', residents and young people at each table.
At the end of the discussions Gillian Tee, the Chair of the Gold Task Force (and Director of Children & Families) summed up.
She said she had heard that people thought things were "a little bit better" – but acknowledged that the dark cold weather may have contributed to this! She noted that we needed more joined up working across the community; that the Court system needs to be improved; that more work needs be done in schools to engage young people; and more community engagement is required.
More positives that she itemised was that the feeling in the room was for all of us to
"keep it up and keep on"
"make the community spirit and working together
"normal" and not just a "project"
and "everyone has to promote all the good and positive things"
If you have a good or positive story to tell – let us know. Let's promote the positive and minimise the negatives – together.
Words of West Pilton West Granton Community Council
Follow #StrongerNorth on Facebook here
Stronger North issued the following update