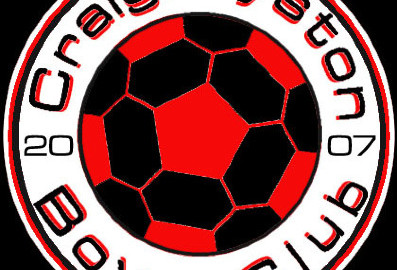 Craigie 2002's hosted Edinburgh South Colts for the 1st game of 2015
Well with the christmas break now over Craigie hosted Edinburgh South Colts for the 1st game of 2015
A newly moved pitch down at Craigie for the 2nd part of the season
Our boys from the off got at Edinburgh Sth with wave after wave of attack. It was relentless as Craigie wanted goals and goals they got.

At halftime it was Craigie 5 Edinburgh Sth 0

In the second half it was more of the same. This time Craigie had the wind in their faces but apart from one or two attacks by ESC, Craigie were comfortable.
Even with a wee error that led to ESC scoring from a free kick ( wind assisted ) couldn't stop the Craigie machine

Craigie scored another 4 goals to make the final score.

Craigie 9 v Edinburgh South Colts 1
Goal Scorers
Tyler 4
Max 2
Ryan 2
Brandon 1
It's fantastic to start the year with a win.
Pity about the clean sheet. These things happen. Felt sorry for Daz as he had nothing to do all game , you could see he was annoyed at loosing that goal. He will learn from his mistake
Nice wee debut from Calum
Good performances all over the pitch.
We have a great squad and they will all have a part to play this season.
Let's keep it going
Next match TBC
C,mon The Craigie
Words of Derek Moorhead (Coach) Craigroyston Boys